Welcome to the USS Merlin!

"Magic is believing in yourself, if you can do that, you can make anything happen."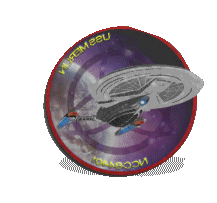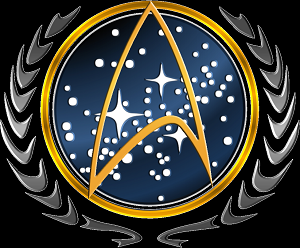 It has been nearly a decade since the Hobus star exploded destroying Romulus and causing various factions, including the Klingons, to prey on the fractured empire. The year is 2395 and the USS Merlin has been launched at a time of great instability. The Merlin is an Excalibur class ship designed as not only a command carrier, but, as a deep space explorer as well (referred to by her crew lovingly as a warp capable starbase). The Merlin has been outfitted with everything she and her crew will need, from defense forces to the latest scientific equipment to the largest diplomatic area that could fit on the ship and even carries a compliment of civilian specialists. This beautiful giant has been given a twofold assignment; the first to protect an unknown area of space at the farthest borders of the Romulan Empire; recently acquired in the Federation treaties. The second to keep the peace, with a renewed focus on exploration and discovery.

Here on the Merlin we strive for 1 thing: to have fun writing. We do this by making sure our stories and writing is the best we can make it. None of us are professional writers, however, we still reach for that excellence. As you look around and think about joining what has become our online family, remember, you won't be joining just the Commanding Officers sim, you'll be joining the crew's sim and it will become your sim too, because it is not just one person who makes a sim, but the simmers who make it a sim. So, look around and read our stories then slip into a uniform and jump in!


**THIS IS AN 18+ WRITING COMMUNITY**













Captain Melody Jones
Commanding Officer
USS Merlin

Lieutenant Commander Marbim Rejal
Executive Officer
USS Merlin

Commander Caroline Miller
2nd Officer
USS Merlin
Merlin
Home of the Golden PADD 2018 Winner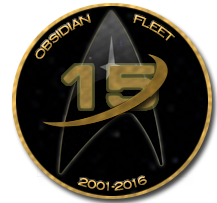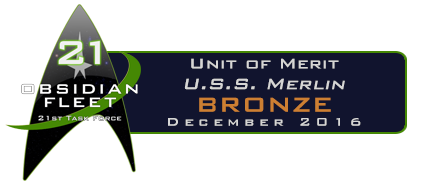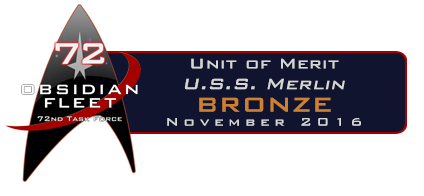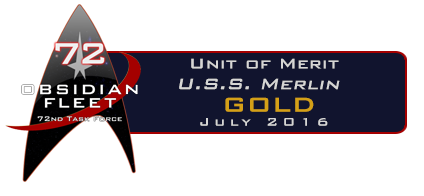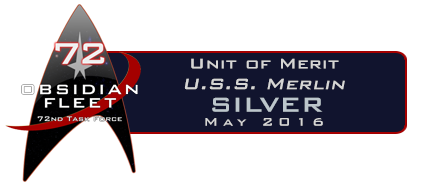 Sim Awards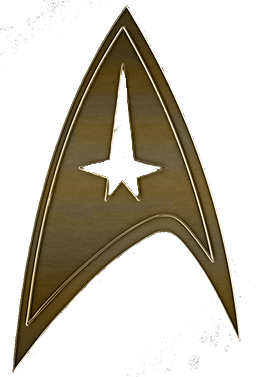 Latest News Items
Posted on Monday 18 January 2021 @ 12:32 by Captain Melody Jones in General News
Hello all

Would you join me in welcomming Lieutenant Zoey Hawkins onboard the Merlin who will be our new chief scince officer.

I hope they enjoy writing with us.

Sam
Captain Melody Jones
Posted on Sunday 20 December 2020 @ 22:01 by Captain Melody Jones in General News
Hello all

You may start adding your crew signatures to the bottom of joint posts again. This will be official when the new mission kicks off but, if you want to start adding them now, that's fine.

They can be found in the Wiki. I've updated them. If anyone wants a new one creating for a character, please let me know.

Merry Christmas

Sam

●●●● Captain Melody Jones
Commanding Officer
USS Merlin

Posted on Wednesday 16 December 2020 @ 20:59 by Captain Melody Jones in General News
Hello all

Well, we have had our official welcome to our new home, Zodiac Fleet. I've had to do some editing on the site to make it ready for the transition. There are one or two things to sort out still but hopefully, they will be dealt with soon.

I have put a link to the Zodiac fleet discord server in the round table on the Merlin discord channel.

I personally have already found Zodiac to be a friendly and welcoming place.


Sam
Melody Jones
Posted on Thursday 10 December 2020 @ 20:56 by Captain Melody Jones in General News
Hey Guys


Well, It's nearly the end of the year and it's been… let's say a challenging year. But here on the Merlin at least we've kept producing some brilliant Jp's and interesting developments in both plots and characters.

A big thank you to everyone for keeping the post count up and taking the time to contribute their talents to the site.

I think we all deserve a break so, over the Christmas period from the 23rd of December till the new year, 2nd of January I'm not going to be requiring anyone to add to any main joint mission posts for that period. Of course, I'm not stopping you posting your own JP's if you want to.

I hope everyone has a Merry Christmas and Happy New Year.

Sam
Melody Jones

Posted on Thursday 10 December 2020 @ 20:54 by Captain Melody Jones in General News
Hi guys

Here is the summary for our next mission, A Cry from the Darkness:

After a desperate plea for help, the USS Merlin is dispatched to Calder Prime with much needed medical supplies and equipment. An unknown disease as broken out due to contamination of the water supply and people are dying. Upon arrival, it turns out a group of marauders created the disease and are selling the cure for a profit. Anyone who can't afford to pay, die and they are stopping anyone who tries to find a cure themselves with violence. They also left a surprise in orbit, a satellite that transmits a computer virus to the Merlin, disabling the ship in orbit. An unknown craft appears and tried to board the ship, leading to phaser fights on various decks including engineering and the bridge. Can engineering get weapons back online in time?
Can the crew find a cure for the virus both on the planet and running through the Merlin's computer systems and find out who is behind such a villainous act?

There are bits for everyone to do. Command, science, medical, engineering and marines.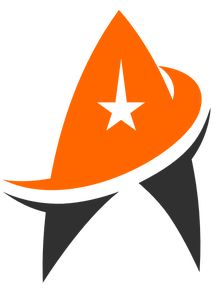 Latest News From Around The Fleet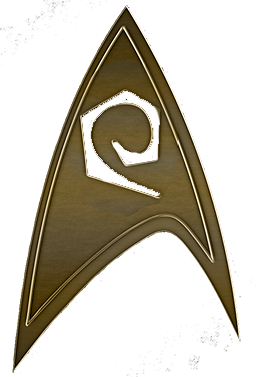 Latest Mission Posts
Mission: A Whale of a problem (We're going to need a bigger boat)
Posted on Friday 22 January 2021 @ 21:53 by Commander Caroline Miller & Lieutenant Mathias McPhee & Lieutenant JG Nir'anyar
ON:

Caroline had cleared the table away, bobbed upstairs and changed shoes and pulled her hair up into a pony tail. She was enjoying wearing it longer again but there was a little wind and she didn't want it getting in her face as they hiked. She grabbed a small…
Mission: Homeward
Posted on Thursday 14 January 2021 @ 23:00 by Civilian Sansa Draxx-Jones & Lieutenant Mathias McPhee
ON:

It had only been a few days since Fay had left Sansa's mind, but she was already feeling her absence. She missed her friend. She decided to cheer herself up and go on a whale watching cruise. At the dinner last night, she had seen an advertisement for a…
Mission: Homeward
Posted on Thursday 14 January 2021 @ 22:14 by Captain Melody Jones & Civilian Sansa Draxx-Jones & Commander Save'ena (Sav) Tillatix & Commander Caroline Miller & Lieutenant Commander Marbim Rejal & Lieutenant Commander Hayley Godding & Lieutenant Mathias McPhee & Lieutenant Ricardo Draxx
ON:

Miles had laid his plans well. The invitations had gone out, again the T'Landrey had aided him, seeing his endeavors as an honorable pursuit. He smiled as he laid the golden card on Sav's side of their bed. She was out enjoying nature, while he had feigned an injury.…
Mission: Homeward
Posted on Thursday 7 January 2021 @ 17:51 by Commander Save'ena (Sav) Tillatix & Captain Melody Jones
ON:

Miles had sent out, well, his family had sent out special invitations for Merlin crew and Miles family to gather. It was in this special gathering that Miles proposed to Sav, in full view of everyone, fulfilling one aspect of the Mephetian Marriage conventions. It was after dinner, but…
Mission: Homeward
Posted on Thursday 7 January 2021 @ 08:34 by Commander Caroline Miller & Commander Save'ena (Sav) Tillatix
ON:

===== Commander Tillatix's Temp Quarters, Starbase =====

Sav had finished unpacking her belongings into her temporary quarters on the Starbase and was trying on different outfits. As she did, something seemed off. She was not sure what it was at first, but something was not right. She dressed again,…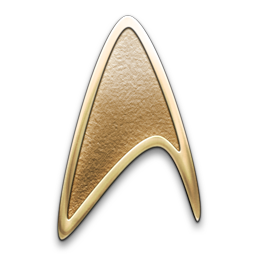 Latest Personal Logs
Posted on Saturday 21 November 2020 @ 22:05 by Captain Melody Jones
Captains personal log, supplemental.


Well well well, where to begin? It's been an interesting mission. So much has happened I've negotiated a peace treaty with a new alien race, me and Draxx are trying for another baby after the injections given to me by Caroline not only will make me…
Posted on Sunday 4 October 2020 @ 21:01 by Ensign Michael Sevmet
Ensign's Personal Log. Stardate *******

Well it's my first day. My transfer orders from the USS Lexington were successfully logged in at 10.00 hrs, and I FINALLY have my own quarters. Thank god this vessel is so big! I'm just about done sharing a cabin with Ensign Taylor. One less…
Posted on Sunday 20 September 2020 @ 04:49 by Lieutenant Mathias McPhee
ON

After waiting for a few months and being on pins and needles wondering what sort of ship I would be assigned to, I know the name. It is the USS Merlin! Is it here I will find my destiny? Could the ships that I had served on have been…
Posted on Sunday 9 August 2020 @ 21:41 by Commander Caroline Miller
Caroline could not wait until todays shift was over. And considering she was now effectively two department leads it had been a long day.

She stormed into her quarters and instead of going to the replicator pulled out a bottle of real stuff, pouring a large measure of liquer and…
Posted on Saturday 18 July 2020 @ 14:42 by Captain Melody Jones
ON:

Personal Log: Melody Jones

It seems our quiet and routine mission to sector 715 has taken an unexpected turn. As we were dealing with a Planet Killer before, now another face from the past has appeared. A probe, identical to the one that nearly destroyed all life on Earth…