Welcome to the Task Group 47-A Flagship USS Merlin!

"Magic is believing in yourself, if you can do that, you can make anything happen."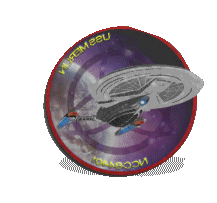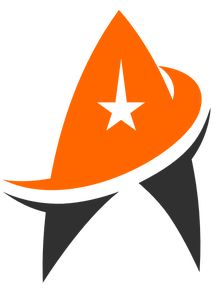 It has been nearly a decade since the Hobus star exploded destroying Romulus and causing various factions, including the Klingons, to prey on the fractured empire. The year is 2395 and the USS Merlin has been launched at a time of great instability. The Merlin is an Excalibur class ship designed as not only a command carrier, but, as a deep space explorer as well (referred to by her crew lovingly as a warp capable starbase). The Merlin has been outfitted with everything she and her crew will need, from defense forces to the latest scientific equipment to the largest diplomatic area that could fit on the ship and even carries a compliment of civilian specialists. This beautiful giant has been given a twofold assignment; the first to protect an unknown area of space at the farthest borders of the Romulan Empire; recently acquired in the Federation treaties. The second to keep the peace, with a renewed focus on exploration and discovery.

Here on the Merlin we strive for 1 thing: to have fun writing. We do this by making sure our stories and writing is the best we can make it. None of us are professional writers, however, we still reach for that excellence. As you look around and think about joining what has become our online family, remember, you won't be joining just the Commanding Officers sim, you'll be joining the crew's sim and it will become your sim too, because it is not just one person who makes a sim, but the simmers who make it a sim. So, look around and read our stories then slip into a uniform and jump in!














Commander Melody Jones
Commanding Officer
USS Merlin

Lieutenant Commander Marbim Rejal
Executive Officer
USS Merlin

Commander Caroline Miller
2nd Officer
USS Merlin
Merlin
| | |
| --- | --- |
| | Home of the Golden PADD 2018 Winner |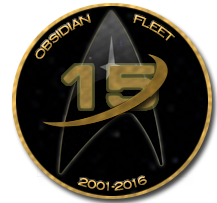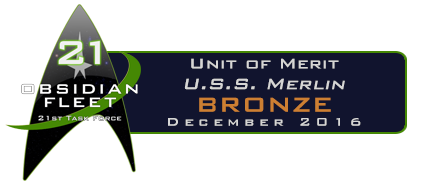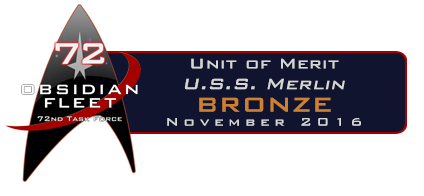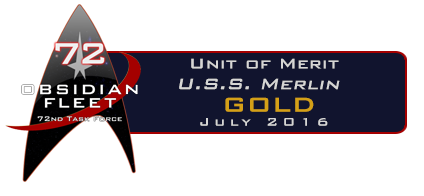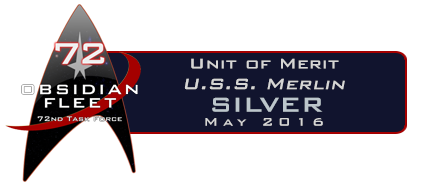 Sim Awards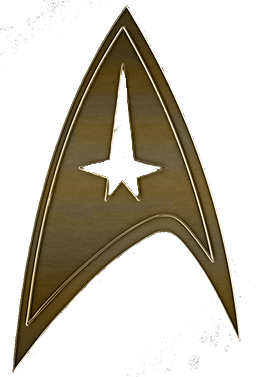 Latest News Items
Posted on Thursday 3 December 2020 @ 21:31 by Commander Melody Jones in General News
Hey all

After successfully defeating the planet killer and making some new friends, our first joint mission with the USS Andromeda has come to an end. A big thank you to both crews for making this a big hit and what will no doubt be the first of many joint missions with other ships.

Negotiations are already underway for a joint mission with the USS Copernicus.

We'll keep you informed.

Thank you once again :-)
Posted on Sunday 29 November 2020 @ 23:12 by Commander Melody Jones in General News
Hey guys

Just wanted to say a great big thank you for all your hard work this month. Just put up the sim report and it was brilliant. A SPC of 85.9. That is amazing. Let's keep the momentum going.

Sam
Melody Jones
Posted on Saturday 28 November 2020 @ 23:33 by Commander Melody Jones in General News
Hey guys

So the new mission has gone live this evening. I've started a big JP with everyone in but there's no rush at this point.

The Merlin is approaching the Solar system.

Sam
Melody Jones
Posted on Monday 23 November 2020 @ 12:50 by Commander Melody Jones in General News
Hello all

It's coming up to the end of the year and I'd like to get some awards posted for everybody's great work through some very difficult times. Please could everyone have a think and come up with some nominations for awards so I can get them in for December.

Thanks

Sam
Melody Jones
Posted on Sunday 15 November 2020 @ 15:36 by Commander Melody Jones in General News
Hey all


Just wanted to say a big thank you to everyone for continuing to make this a great simm. The current mission is wrapping up nicely and the new mission will be kicking off shortly.

For our Ameican writers, hope you have a great Thanksgiving :-)

Sam
Melody Jones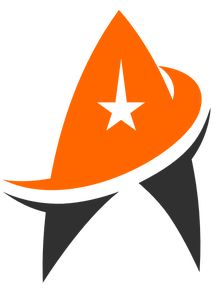 Latest News From Around The Fleet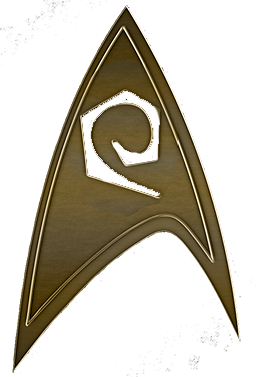 Latest Mission Posts
Mission: Homeward
Posted on Thursday 3 December 2020 @ 21:22 by Captain Hans Andersson & Commander Melody Jones & Civilian Sansa Draxx-Jones & Commander Save'ena (Sav) Tillatix & Commander Caroline Miller & Lieutenant Commander Marbim Rejal & Lieutenant Hayley Godding & Lieutenant Mathias McPhee & Lieutenant JG Nir'anyar
ON:

Melody came onto the bridge early this morning for a special reason, they were home.

"Good Morning all" She called out cheerily as she took a quick walk around all the bridge stations. For some reason, she was full of energy this morning and was in a glorious mood.…
Mission: Race against the machine - Joint Mission with USS Andromeda
Posted on Thursday 3 December 2020 @ 21:17 by Commander Caroline Miller & Commander Melody Jones
ON:

Despite nursing a slight hangover, The Merlin was due to leave today and Melody though she had better say goodby to her new friend. Amelia was still on her Honeymoon and she didn't want to disturb her wedding night so she had sent a message for her.

A bottle…
Mission: Homeward
Posted on Thursday 3 December 2020 @ 06:24 by Commander Save'ena (Sav) Tillatix & Lieutenant Commander Marbim Rejal
Out of uniform and in some comfier clothes, Miles was pacing his small room. Finally, he makes a decision, replicates a mug of earl grey tea with lavender essence, cream, and sugar in it and sits at his desk desk.

"Computer, place a call to Kendra Tillatix on my behalf."…
Mission: Race against the machine - Joint Mission with USS Andromeda
Posted on Wednesday 2 December 2020 @ 23:02 by Commander Caroline Miller & Commander Melody Jones & Civilian Sansa Draxx-Jones
Continuing on from "Let the good times roll part 1"

ON:

Natasha looked over to where Melody was and gave a wave towards her. "Commander Jones! I'd like to introduce you to some marvellous people here."

Michael gave a nod towards Melody and called out a greeting to Sansa. "Hello…
Mission: A Whale of a problem (We're going to need a bigger boat)
Posted on Tuesday 1 December 2020 @ 12:06 by Civilian Sansa Draxx-Jones & Lieutenant Hayley Godding
ON:

Sansa and Fay were pouring though Hayley service record, trying to find out more about her. Specifically why she had reacted so badly to Sansa allowing Fay to inhabit her body. It had been Fay's suggestion actually. If you know more about her past, you'll be able to understand…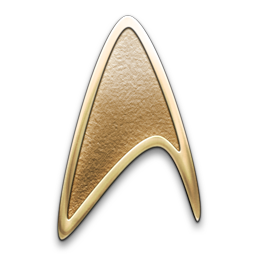 Latest Personal Logs
Posted on Saturday 21 November 2020 @ 22:05 by Commander Melody Jones
Captains personal log, supplemental.


Well well well, where to begin? It's been an interesting mission. So much has happened I've negotiated a peace treaty with a new alien race, me and Draxx are trying for another baby after the injections given to me by Caroline not only will make me…
Posted on Sunday 4 October 2020 @ 21:01 by Ensign Michael Sevmet
Ensign's Personal Log. Stardate *******

Well it's my first day. My transfer orders from the USS Lexington were successfully logged in at 10.00 hrs, and I FINALLY have my own quarters. Thank god this vessel is so big! I'm just about done sharing a cabin with Ensign Taylor. One less…
Posted on Sunday 20 September 2020 @ 04:49 by Lieutenant Mathias McPhee
ON

After waiting for a few months and being on pins and needles wondering what sort of ship I would be assigned to, I know the name. It is the USS Merlin! Is it here I will find my destiny? Could the ships that I had served on have been…
Posted on Sunday 9 August 2020 @ 21:41 by Commander Caroline Miller
Caroline could not wait until todays shift was over. And considering she was now effectively two department leads it had been a long day.

She stormed into her quarters and instead of going to the replicator pulled out a bottle of real stuff, pouring a large measure of liquer and…
Posted on Saturday 18 July 2020 @ 14:42 by Commander Melody Jones
ON:

Personal Log: Melody Jones

It seems our quiet and routine mission to sector 715 has taken an unexpected turn. As we were dealing with a Planet Killer before, now another face from the past has appeared. A probe, identical to the one that nearly destroyed all life on Earth…